HUAWEI P11 X Concept video reveals an iPhone X like notch and triple camera setup
HUAWEI P11 X Concept video reveals an iPhone X like notch and triple camera setup
In order to stir up the excitement, a new concept video of the upcoming HUAWEI P11 has surfaced online courtesy of Concept Creator. The video dubs the phone as the HUAWEI P11 X apparently due to its resemblance to the iPhone X. The new handset will have an edge-to-edge design with a notch akin to the iPhone X. As for the other important feature, it will come with three camera sensors at the rear.
The curiosity about the HUAWEI P11 is increasing with the passing of each day, although not much is known about this handset so far. However, that doesn't keep enthusiasts from imagining the device in their own way. To that effect, a new video has surfaced showcasing the upcoming device in full glory. The new video was posted on YouTube by Concept Creator, which often creates concept videos of various upcoming devices.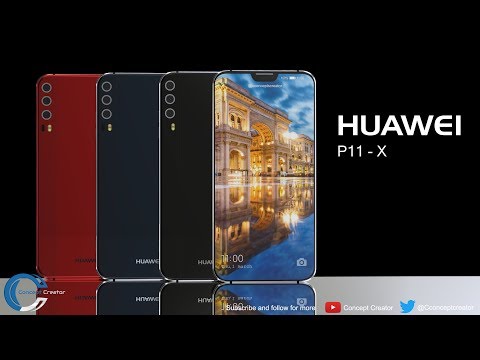 The video nevertheless features the phone in the name of the HUAWEI P11 X, maybe due to the fact that it looks inspired by Apple's iPhone X. The HUAWEI P11 X shows the same edge-to-edge display with 18:9 aspect ratio and at the same time it sports a notch on the top of the front panel as in the iPhone X, although the notch is not as big as the one found in the iPhone X.
Moving away from the current dual-camera setup up the HUAWEI P11 X is shown having three camera sensors at the back, aligned in a vertical layout accompanied by a dual-tone LED flash with a laser autofocus. The front, as it seems, has the dual-camera setup housed in the notch itself.
Made out of metal and glass the HUAWEI P11 X features the metal physical buttons. Unlike three buttons in modern smartphones, the HUAWEI P11 X comes with four buttons, the textured power button, two buttons for volume and a dedicated camera button all on the right edge of the phone.
At the bottom, there is situated a USB Type-C port along with thick speaker grilles. The legacy 3.5mm audio jack is spotted at the top of the handset. As for the color options, the device is shown dressed in three color options, Blue, Black, and Red.
We must tell you that everything shown in the video is based on conjecture. This is neither a leak nor an official take. So, no surprise, if the HUAWEI P11 comes out as having a different design. The smartphone is expected to arrive in the first quarter of the next year. Needless to say, it will hit the web on a number of occasions, leading up to its launch. We expect, more details about the phone will emerge along with these leaks. Stay tuned.