GraalPhone shows off 4-in-1 modular concept device
GraalPhone shows off 4-in-1 modular concept device
Showing off its newest feat at CES 2017, GraalPhone, a French startup, has managed to create a lot of buzz in the industry. At the event it showed off a 4-in-1 device, which also goes by the company's name, combines a 5-inch FHD display smartphone, 7-inch tablet, a mini-laptop as well as a digital camera all in one. The device, however, was a mock-up which is still to be fully developed. GraalPhone has hinted that it might sell the entire technology to any original OEM in the future.
Consumer Electronics Show (CES) is well known for showcasing the latest innovations in technology. One such innovation, albeit a little weird, was 4-in-1 GraalPhone created by French startup which goes by the same name. The device was shown at CES 2017, however, was a mock-up as the fully functional model was yet to be developed.
Anyways, the concept phone takes a revolutionary approach about how we use our devices. If carrying or stacking our useful devices such as phone, tablet, laptop, or the camera are much of a hassle, GraalPhone will solve it since this mini-laptop looking cocktail device has the ability to transform into a tablet, laptop as well as a camera besides being a separate phone.
GraalPhone consists of a 5-inch Android smartphone tucked inside a 7-inch tablet. Although specs remain unannounced, GraalPhone is expected to tack on some heavy-duty specs so that multiple transformations of the device will be easily possible.
According to few reports the 5-inch phone will have a full HD resolution and powering the device will be an octa-core Qualcomm SoC rumored to be Snapdragon 835 coupled with 8GB RAM and 256GB onboard storage. The 7-inch tablet, which also serves as a case comes with a Pen for writing and drawing. The tablet runs on the same Android OS.
In case the user wants to use it as a mini-laptop he or she will just have to slide the screen. With the help of a dedicated keyboard underneath and Windows 10 OS, the user can enjoy the laptop experience on the go. The device has one more trick up its sleeve, the smartphone camera together with notebook sensor can also transform into a digital camera equipped with 5x Optical Zoom.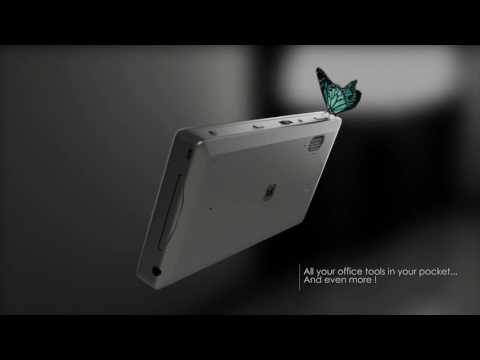 Although the specs are yet to be finalized the company has already revealed that the final product will be slimmer than what was shown at the event. Nevertheless, GraalPhone is also in parleys with other companies to sell out the complete technology. Raoul Parienti, the man behind the idea of GraalPhone, said, "Some company like Huawei or like Sony will show interest in this product because there is nothing on the market [like it,]".