Motorola Moto G6 Play leaked in Taiwanese Certification Process
Motorola hit a home run with the Moto G4 last year, widely regarded as one of the best entry-level devices of 2017. The Chicago-based company is quick to follow up on the momentum with a new line of Moto G Series devices, which include the Moto G6, the Moto G6 Plus, and the Moto G6 Play. Today, we look at the information coming from the Taiwanese regulator NCC. Sources have released images from the NCC of the Moto G6 Play, confirming its final design and appearance.
The images show the Moto G6 Play's fabulous new 18:9 display, an aspect ratio that is slowly becoming mainstream in entry-level devices and flagships alike. The device is shown being measured and is roughly 50 mm x 70 mm in its dimensions. The rear of the device has the classic Motorola look, with the large circular cut out featuring the camera and the LED flash, and underneath it is the Motorola logo. The device features a glassy build, which gives it a very classy look. It has a rounded back and appears to be relatively thick, but that much is to be expected from a handset meant for the lower end of the market. The Moto G6 Play is expected to be the lowest level variant of the Moto G6 series for the absolute entry-level segment, and it's interesting that Motorola still elected to provide an 18:9 display for it.
The Moto G6 Play is rumored to have a 5.7-inch display with an HD+ resolution of 1440 x 720 pixels. Inside it will have a Qualcomm Snapdragon 430 processor with either 3 GB or 4 GB of RAM, along with 32 GB of 64 GB of internal storage. The rear camera is expected to be 16 megapixels and will have an LED-flash module, while the front camera is the same with 16 megapixels, but without the flash. It'll have a 4,000 mAh battery, a rear-mounted fingerprint scanner, and it'll be available in three colors: Dark Charcoal, Deep Blue, and Gold. It'll also run Android 8.0 Oreo out-of-the-box, with Google's Project Treble included.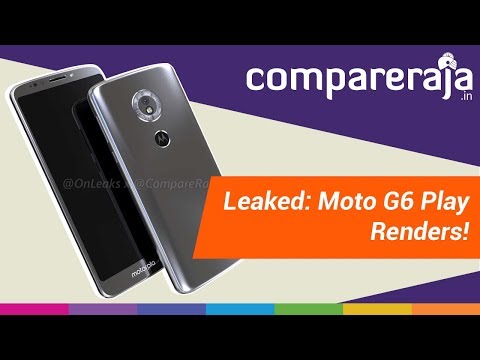 The new Moto G6 series is expected to launch sometime in the Q2 2018, so that's not too far off for Motorola fans. Sit tight and we'll have the news ready when it is launched.