Blackview BV9000 Pro thrown off a Cliff and put in the Washing Machine
When it comes to high tech gadgetry, one of the unspoken fears people have is breaking their new expensive toy while going about their daily routines. It's all too easy to drop your phone onto the pavement, or slip and dunk it into the sink, or otherwise subject the device to conditions that would break it. Rugged phones are one way to get around that, and Blackview gives us one very attractive option for a life-proof phone: the BV9000 Pro.
The BV9000 Pro holds the distinction of being the world's first rugged 18:9 FullView display smartphone. It's fast, with a Helio P25 chipset with 6GB of RAM and 128GB of internal storage, and has very capable features like dual cameras with 13-megapixel and 5-megapixel sensors capable of excellent low-light shots. The screen is 5.7-inch display, from HD now upgraded to FHD at 1440 x 720 resolution with Gorilla Glass 5 protection, but what sets the phone apart from is just how tough it is.
Blackview released a promotional video where the BV9000 Pro was tossed off a cliff and abused in a washing bin full of flour, and even tossed into a washing machine. Just how well did it withstand these torturous trials?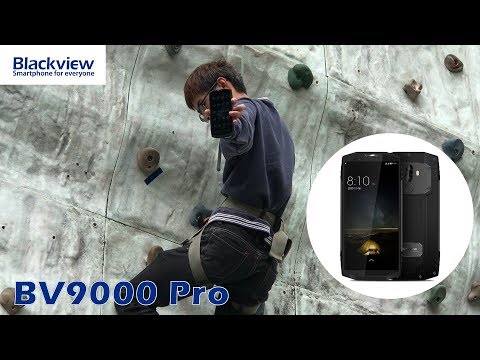 The video starts off with at rock climbing wall, with a man placing three BV9000 Pros in his pockets. He then proceeds to climb the wall, and drops the phones three different heights. The exact heights were not given, but the first point looked to be at least 5 meters, and the succeeding ones were at least 10 meters and 15 meters high each. The phones were dropped unceremoniously to the pavement each time, and were recovered without a scratch, even after bouncing around and tumbling across the hard cement.
The phone was then put in a bin of flour, and tossed and turned like pizza dough, and none of the finely-sifted powder got in, leaving the phone undamaged. Water was poured in and the phone survived the ordeal just the same.
Finally, the phone was tossed into a washing machine and set to wash for the entire washing cycle, including tumble drying. Once again, the phone emerged unscathed without a scratch, and was turned on and operated flawlessly.
This video shows just how tough and rugged the BV9000 Pro is, and how it can suffice anything you throw at it, so you won't have to worry about babying your phone as you go about your day. You can get the BV9000 Pro from Ali Express here.